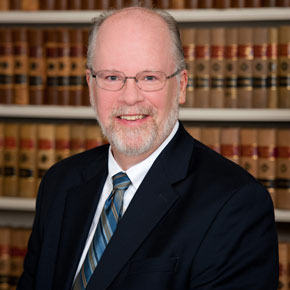 ERIC C. JOHNSON attended Ohio State University, earning a degree in economics and then graduated from the University of Cincinnati Law School in 1983. Eric is a member of the Ohio Association of Justice and the Mahoning County Bar Association, having chaired or served on numerous committees over the years. Eric is past President of the Mahoning County Bar Foundation and has served on the Ohio Supreme Court's Board of Grievances and Discipline. His areas of practice are real estate, oil and gas, contracts, litigation and appeals.  Eric has been practicing oil and gas law for nearly thirty years.  His oil and gas insights have been publicized in The Wall Street Journal, The Washington Post, and local media outlets such as WKBN.  He routinely leads Continuing Legal Education (CLE) seminars on behalf of various Ohio bar associations.  Similarly, Eric lectured for the National Business Institute (NBI) as well as the Ohio Association of Justice.  He also guest lectured at the Ohio State University's Agricultural Extension Program on matters concerning oil and gas law.
Massachusetts Institute of Technology, Sloan School of Management, Cambridge
Boston University School of Law, Boston, MA
The Phoenix High School Of New York
Education & Court Admissions
Greek (fluent), English (fluent), French, Italian.

Family Law
Experience: 5 Years
Oil & Gas
Experience: 7 Years

Employment Law
Experience: 6 Years